Home Treasures the little store that could…
Home Treasures is a Non-profit Organization which funds many worthy causes and initiatives in Cochrane, AB and surrounding area. We operate on the belief that everyone deserves the nice & necessary, and are fueled by a team of inspiring volunteers who dedicate their time to make everyone's experiences enjoyable. Your dollars and donations go towards providing families in need with necessary household items, as well as contributing to community initiatives that improve the quality of life for your neighbours and peers. By taking in second hand goods we are able to remove a larger portion out of the waste stream we produce as a community. It is the ultimate form of reusing and recycling – AND – supporting community employment and funding initiatives. We work closely with local organizations to maintain our focus on our founding initiatives.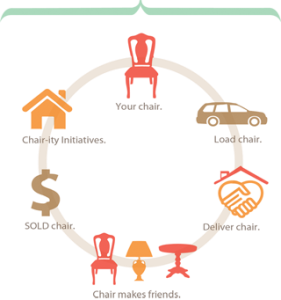 Since the day of our birth in 2002 we have evolved.  But we never forget where we came from.  In May 2002, the need for a used furniture and household goods store was identified. At the same time, the Women's Housing Committee was evolving as a sub-committee of the Affordable Homes Task Force. The Mission of the committee was to promote successful living, sustainability and community building for residents of the Town of Cochrane; regardless of family composition, ethnic background, physical limitation or socio-economic status by encouraging development of affordable housing, education, empowerment and public advocacy.  Cochrane Home Treasures was tasked with providing:
Free household furnishings for residents identified to be in crisis
An outlet where 'at risk' groups (single parents, single and/or divorced individuals children, seniors, aboriginal persons and persons with disabilities) may be identified and referred to FCSS
Volunteers with the opportunities to gain marketable skills
Volunteer opportunities for community residents including youth and adult men, person with disabilities and seniors
Affordable furnishings for community residents
A place for Cochrane residents to donate their used items
A source of funding for programs targeted to help educate individuals on ways to live more effectively within their means.

On November 1st, 2002 Cochrane Home Treasures opened and was and still is
run by a nonprofit society, Treasures for Your Home Society.